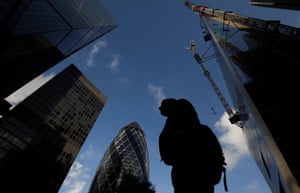 Good morning, and welcome to our rolling coverage of the world economy, the financial markets, the eurozone and business.
Recruitment isn't the most exciting part of the economy – with its job applications, sifting of CVs and interview rounds. But it's a good indication of how companies are faring, because when bosses get nervous they have a tendency to stop hiring.
So it's worrying that two UK recruitment firms have both issued downbeat trading statements today, laced with anxiety about geopolitical tensions.
PageGroup, the FTSE 250-listed recruiter, has warned that profits will be weaker than expected this year. It has suffered a 4.1% drop in UK profits in the last quarter, and an 8% tumble across Asia.
CEO Steve Ingham blames "increased macro-economic and political uncertainty" in key markets — singling out Brexit as one key factor.



"We saw standout performances in Germany, India, and Latin America, as well as a strong performance in the US, despite a slowing Financial Services market in New York. However, we saw increasingly challenging trading conditions in many of our larger markets, including Greater China, the UK and France.

"Looking ahead, the deterioration in trading conditions seen during Q3 across the majority of our regions is anticipated to continue. In the UK, heightened Brexit related uncertainty is expected to remain as we approach and go beyond 31 October.
Ingham adds that the Chinese market is softening, amid the trade war with China and the pro-democracy protest in Hong Kong.



In Greater China, confidence in Mainland China continues to be affected by trade tariff uncertainty and the social unrest in Hong Kong is increasing.
PageGroup now expects 2019 operating profit to be in the range of £140m to £150m — not the £156.5m to £168m previously aimed for. That's a chunky reduction.
Smaller rival recruiter Robert Walters has a similar story. Its gross UK profits have slumped by 11%, and blamed "significant political uncertainty in a number of the Group's markets".
Those problems include Brexit, US-China trade tensions, and the ongoing problems in Hong Kong.
CEO and founder Robert Walters says the firm is facing a 'unique' combination of headwinds:



"The Group delivered net fee income growth of 2% (4% actual) during the third quarter as trading conditions softened across a number of markets.

The ongoing uncertainty surrounding Brexit, the US-China trade tariff standoff and Hong Kong protests, coupled with the significant impact of the gilets-jaunes protests experienced earlier this year have combined to create a unique set of cumulative headwinds.
The firm now expects profits to be flat this year — previously analysts had expected pre-tax profits to swell to £52m, from £49m.
Reaction to follow….
Also coming up today
The International Monetary Fund is kicking off its autumn meeting in Washington. Its the first event since Kristalina Georgieva succeeded Christine Lagarde as its managing director; she'll give a speech on the state of the global economy.
The agenda
All day: European Central Bank conference on Monetary Policy
3pm BST: IMF MD Kristalina Georgieva gives opening speech at the Fund's autumn meeting in Washington