The Company
Alexandria Real Estate Equities (ARE) is an almost-pure-play investment on life science real estate. In other words, it owns and leases over 37 million square feet of office and laboratory space to pharmaceutical and biotechnology companies. Its 250 properties are mostly concentrated in high-end locations such as New York City, San Francisco, San Diego, Seattle, Cambridge (Massachusetts), and the "Research Triangle" in North Carolina.
Rendering of 50-60 Binney St, Cambridge, MA (near MIT), Image Source
Some of ARE's top tenants include Amgen (AMGN), Eli Lilly And Co. (LLY), Novartis (NVS), Roche (OTCQX:RHHBY) (OTCQX:RHHBF), and Pfizer (PFE) (via its headquarters in New York City).
The vast majority of Alexandria's leases are triple net, meaning that the tenant is obligated to pay for taxes, insurance, and maintenance of the property. What's more, the weighted average remaining lease term is over ten years, and the vast majority of leases have inflation-based rent bumps at regular intervals.
When the company was launched in 1994, many weren't fond of the idea of a publicly traded landlord focused on the life science industry. Some worried that the chemical agents used in the labs could be unsafe, corrosive, or even potentially explosive. What's more, detractors said the landlord would be responsible for regularly ripping out and installing new research equipment when tenants turned over.
But ARE's life science focus proved prescient, as the rapidly growing biopharma industry needed infrastructure to expand and modernize its research capabilities. The landlord's shareholders have been lavishly rewarded for it over the last few decades: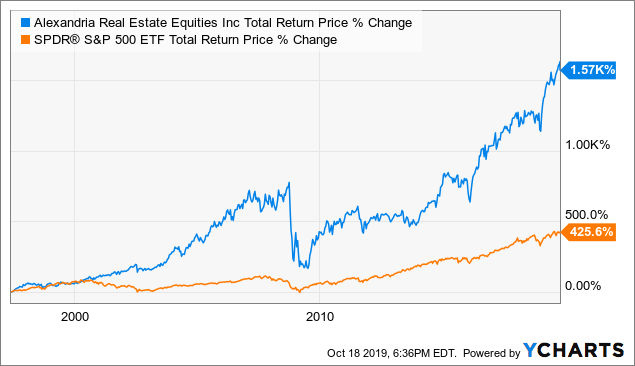 A significant chunk of that phenomenal outperformance has occurred this year (2019). Total shareholder return from the IPO in 1997 to the end of 2018 came in a little above 1,200%. This beat out Microsoft's (MSFT) 881%, Walmart's (WMT) 793%, and Berkshire Hatthaway's (BRK.A, BRK.B) 612% in the same time period.
However, being reliant on robust research & development in the pharmaceutical and biotech spaces, ARE is also exposed to the cyclicality of R&D spending. When the economy turns down, biopharma companies tend to rein in their R&D spending in order to conserve cash. And when R&D is curtailed, less lab space is needed, resulting in a sharp pullback in rental revenue growth for landlords like ARE.
Given the high prices of high-end, Class A real estate like that owned by ARE, these markets are also subject to greater slumps during downturns (though they also bounce back the strongest thereafter due to scarce space and high barriers to entry).
Hence, the precipitous fall during the 2008 recession: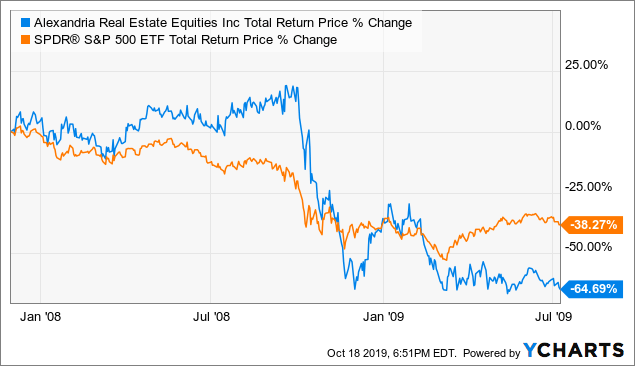 It wasn't until 2016 that ARE finally hit its previous peak reached in the summer of 2008 before the financial crisis struck.
Hybrid Business Model
Above, I say that it is "almost" a pure play on life science real estate for two reasons. First, because it does have some non-medical tech and other research-oriented tenants such as Uber (UBER), Facebook (FB), Massachusetts Institute of Technology, and the US government. Not all of its high-end office buildings are 100% life science.
Second (and more interestingly to me), because Alexandria has long operated a healthcare-oriented venture capital business. In 1996, with some leftover seed money, ARE co-founder Joel Marcus "formed Alexandria Venture Investments to fund start-ups in the life science industry," writes Ron Derven in an NAIOP feature article. Since then, ARE has become a major player in the space. In 2018, with a portfolio of 300+ components, it was the most active VC investor in both biopharma and healthcare more broadly by deal volume. As of the end of 2018, its venture portfolio book value equaled $892 million.
These VC investments may consist of initial seed capital for nascent biopharma companies, participation in IPOs, access to capital, or increased tenant improvement allowances via its LaunchLabs program. Some of these investments are in companies that design platforms to grow healthier crops, others that develop vaccines and treatments for various diseases, and still others that are inventing new ways to store and synthesize DNA.
In short, ARE's ventures are invested in cutting-edge innovators that are building the future.
The VC arm intersects beneficially with its real estate arm. While most of its VC investments are not in its tenants, it does gain valuable insights about cutting-edge research in the field, and if its investments are successful enough, the relationships have already been established to recruit them into the tenant base.
Maximizing Innovation Through Clusters
The venture capital arm isn't the only way Alexandria gains exposure to innovation. It has also moved toward an integrated form of real estate called "cluster development." It's based off of the theory of Harvard Business professor Michael Porter, which says that an ecosystem of cutting-edge innovators working in close contact with each other will produce an even more creative and productive environment.
The NAIOP article cites Porter's explanation of the theory:
Clusters are geographic concentrations of interconnected companies and institutions in a particular field. Clusters affect competition in three broad ways: by increasing the productivity of companies based in the area; by driving the direction and pace of innovation, which underpins future productivity growth; and by stimulating the formation of new businesses, which expands and strengthens the cluster itself.
Alexandria owns several urban clusters near top research universities on both the East and West coasts, such as MIT and the University of California, San Francisco.
The Dividend
Dividend growth is fairly rapid during the expansion phase of the market cycle, coming in at 7.4% per year over the past five years. However, as already mentioned, the company is exposed to greater downside during economic contractions (aka recessions). During the Great Recession, the dividend was cut by a little over half.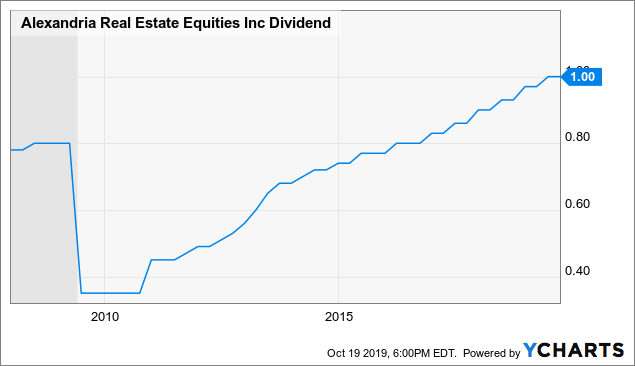 The annual dividend payout also fell from 1997 to 1999, picking up growth again from 2000 to 2007.
Interestingly, the dividend yield is currently around the same level it was at its bottom (ARE's share price peak) before the Great Recession.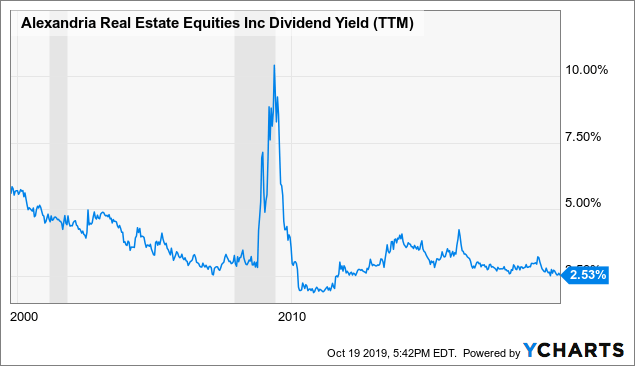 Now, this does not necessarily mean that history is about to repeat. But it's worthwhile to note that the recent price run-up is similar to the run-up that occurred in the summer of 2008, before the financial crisis triggered the deep recessionary slump. The highest yield achieved during the post-recession bull market was about 3.5-4%.
The payout ratio based on free cash flow has crept up since the Great Recession, as dividend growth has slightly outpaced FCF growth from 2011 to 2016.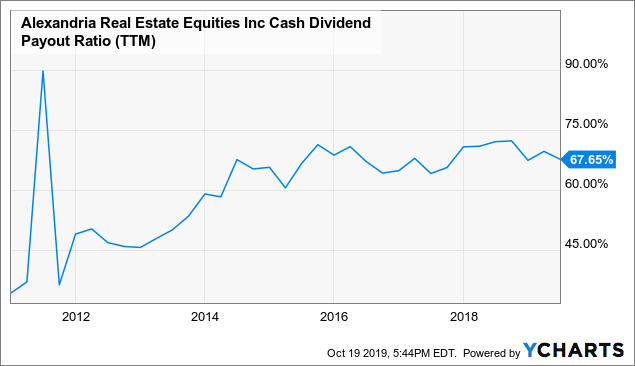 However, the ratio has remained roughly even to slightly trending downward over the last year as both organic growth (lease renewal and releasing spreads) and new developments have been strong.
During the Great Recession, though, the payout ratio spiked above 100%, which precipitated the dividend cut. So a healthy payout ratio right now may not portend the continuation of such a ratio should the US economy slump into recession.
Conclusion
There is a lot to like about Alexandria Real Estate Equities. Its high-end real estate in constrained, high barrier-to-entry markets combined with top-tier biopharma tenants and a vibrant venture capital arm make this a company to watch. With advanced economies around the world continuing to age, there's little reason to think that demand for the medical innovations that ARE's tenants provide will dry up anytime soon.
However, Alexandria's greatest strengths are also its greatest weaknesses, as high-end real estate, biopharma R&D, and venture capital are all hit hard during downturns.
Though I am fascinated and impressed by ARE, now is probably a bad time to buy the stock. Company insiders seem to agree, as they have overwhelmingly been net sellers of the stock in the twelve and three months.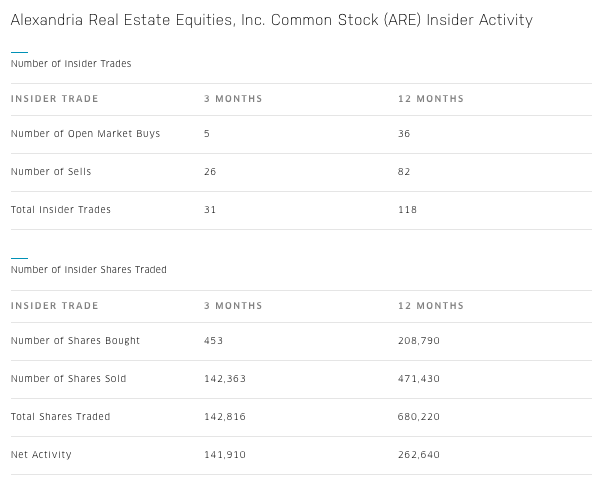 Source: NASDAQ
That includes some selling (7,500 shares) by CEO Joel Marcus near the current high.
As such, though I am bullish on the stock long term, my position is "bearish" for the time being, and I am not buying. It will be one of the stocks I watch most closely if the US does slip into a recession, though, as the company's assets should help it bounce back strongly coming out of the recession.
Disclosure: I/we have no positions in any stocks mentioned, and no plans to initiate any positions within the next 72 hours. I wrote this article myself, and it expresses my own opinions. I am not receiving compensation for it (other than from Seeking Alpha). I have no business relationship with any company whose stock is mentioned in this article.