Good morning, and welcome to our rolling coverage of the world economy, the financial markets, the eurozone and business.
The storm clouds over Germany's economy have darkened again this morning, with consumer morale hitting a three-year low.
The Nuremberg-based GfK institute has reported that Germans are more pessimistic about the economic outlook, making them more reluctant to spend.
This pulled GfK's consumer sentiment index down, from 9.8 to 9.6, which is the weakest reading since November 2016.
The global economic downturn, trade conflicts and "Brexit chaos" all making people gloomier, GfK says. Rising job cuts at carmakers and banks are hurting too.
"These events have dampened the mood of consumers again and optimism is dwindling," GfK researcher Rolf Buerkl said, adding that Berlin's government could act to stem the downturn.



Private consumption will remain an important pillar for the German economy this year – assuming that the current crises do not escalate further and both policy and the economy counter the rising fear of job losses."
There are widespread fears that Germany, Europe's largest economy, could have fallen into recession in the last quarter (we get the data next month).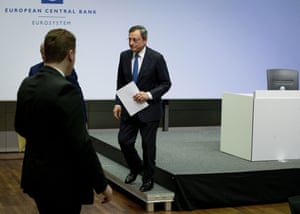 The wider eurozone doesn't look terribly healthy either. Yesterday, Mario Draghi signed off from the ECB by warning of "a protracted weakness in the euro area growth dynamics".



The risks surrounding the euro area growth outlook remain on the downside.

In particular, these risks pertain to the prolonged presence of uncertainties related to geopolitical factors, rising protectionism, and vulnerabilities in emerging markets."
German consumers, it seems, have already got the message….
Also coming up today
There's some anxiety in the tech sector after Amazon reported a sharp drop in profits last night, due to the cost of ramping up its Prime delivery service.
My colleague Dominic Rushe explains:



Amazon's profits slid 26% in the last quarter as the company poured money into free shipping and its cloud storage business.

While the company's revenues rose sharply, up 24% to $70bn for the quarter or more than $23bn a month, its profits fell to $2.1bn down from $2.9bn from a year earlier.

The financial miss comes as Amazon is facing greater scrutiny from Washington, with politicians from both sides calling for investigations of its business practices.
With Texas Instruments, McDonalds, Caterpillar and Twitter already missing market expectations this week, it's turning into a mixed reporting season.
The pound could come under pressure as EU leaders deliberate whether to grant the UK another Brexit extension, and for how long. Sterling is currently hovering around $1.285, awaiting developments (like the rest of us).
Traders will also be watching whether Boris Johnson manages to persuade MPs to hold a general election in December (very festive!). Labour aren't keen to head to the polls, so the PM could be thwarted.
The official report into the Boeing 737 MAX crash in Indonesia a year ago, which killed 189 people, is being released, and could be pretty damning
According to Reuters, it will recommend closer scrutiny of automated control systems, improved design of flight deck alerts and better accounting for a more diverse pilot population.
The agenda
9am BST: IFO survey of German consumer confidence
3pm BST: University of Michigan survey of US confidence