A new year has just begun and a new version of Android is reportedly right around the corner. A benchmark test has been spotted on Geekbench which indicates that a Google Pixel 4 is running the upcoming Android "R" operating system (11th iteration of the Android OS).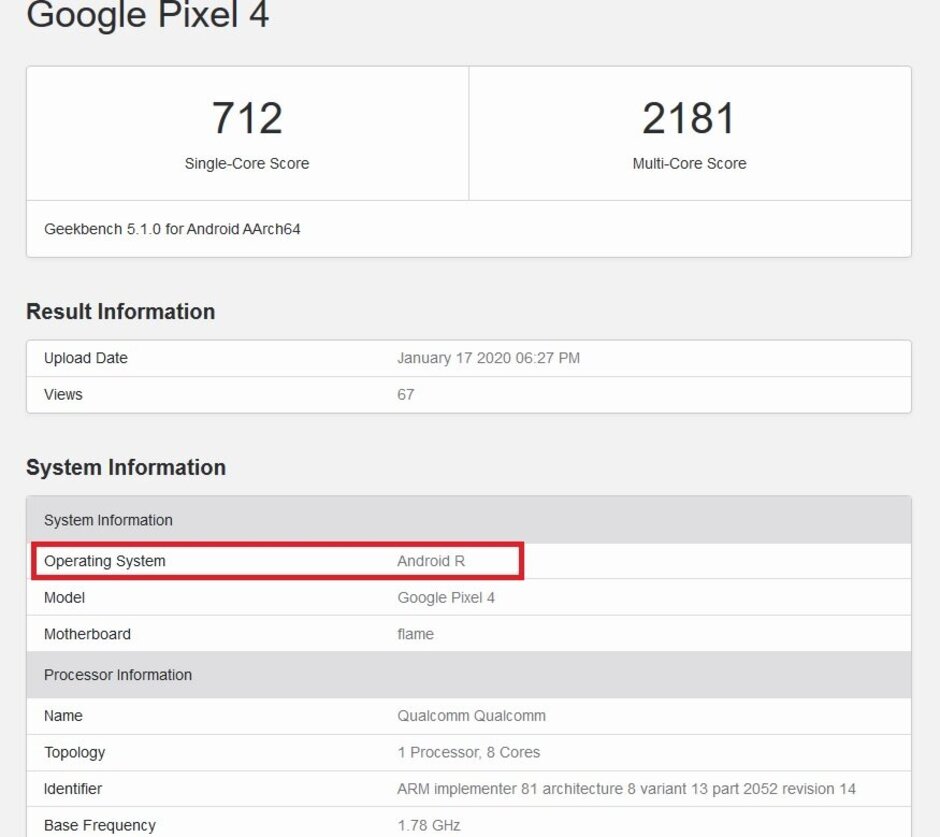 The benchmark has yet to be confirmed officially so it might turn out to be fake. Furthermore, Google announced that it is dropping the customary desserts and alphabetic naming scheme for a more comprehensive numerical system, so Android R listing doesn't make it seem like an official build. However, Android 10 was referred to as Android Q in the developer preview up until the rollout of the final build. Thus, the Android R developer preview is most likely an early designation to Android 11 OS.
Last year, Google had announced the Android Q developer preview in March 2019 with six beta versions being released before the Android 10 stable build was launched on 3rd September 2019. Following the same timeline, Android R could very likely be unveiled within the arriving 6 to 8 weeks. Pixel owners are most likely to receive the beta program first, while a number of different devices are expected to also be included soon after.

Notably, it is advised for those interested to only join the beta program for any upcoming OS update if one possesses a spare smartphone. Early iterations of a final build are highly unstable and filled with bugs. Waiting for a few of the zero-day bugs and glitches to be fixed and opting-in for the beta program for later builds is a safer bet. The new version of Android OS is expected to bring many quality of life improvements alongside performance enhancements as well, so stay tuned for related coverage.
(Via)