Good morning, and welcome to our rolling coverage of the world economy, the financial markets, the eurozone and business.
Two of the City's big fears – a Brexit-induced recession and a full-blown trade war – are in the spotlight today.
The latest UK GDP report, due at 9.30am, is expected to show that growth fizzled out in August. Economists predict GDP was unchanged during the month, after rising 0.3% in July.
And over the last three months, GDP is expected to have only risen by 0.1% — much slower than usual.
Given the economy actually shrank in April-June, there's clearly a risk that Britain's economy stagnates. It could even slide into a full-blown recession later this year as Brexit uncertainty continues to hit business investment.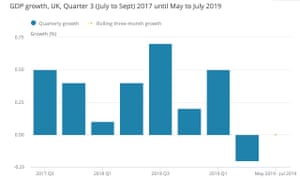 The economy may have got one Brexit boost — car factories stayed open in August, having brought their usual summer shutdown forwards to April. That should have boosted manufacturing output during the month.
But with the eurozone also looking weak, and global trade slowing, there's not much optimism about today's August GDP report.
Here's what the City's expecting:
Monthly GDP: unchanged in August compared with July
Growth in June-August: Up just 0.1% compared with March-May.
Manufacturing production: Down 0.4% compared with September 2018, but up 0.2% month-on-month
Services output: flat in August.
We'll also get UK trade data, expected to show Britain's goods deficit with the rest of the world widened in August.
But the big trade story is happening in Washington today, where a Chinese delegation led by vice-premier Liu He will meet US counterparts later today.
Hopes of a breakthrough in the ongoing trade war aren't high, as the US has just blacklisted 28 Chinese companies over human rights abuses against Muslim groups in Xinjiang province.
China has briefed that Liu He will offer to buy more US agricultural goods in an attempt to break the deadlock, but they've also hinted that the two-day talks could end early.
The agenda
9.30am BST: UK monthly GDP report for August – expected to show GDP was flat month-on-month
9.30am BST: UK visible trade balance for August – expected to show a deficit of £10bn, up from £9.1bn in July
1.30pm BST: US consumer price inflation for September – expected to show prices rose 0.1% in the month
3pm BST: IMF to publish its latest Global Financial Stability Report
3.30pm BST: IMF to publish its latest Fiscal Monitor