[ad_1]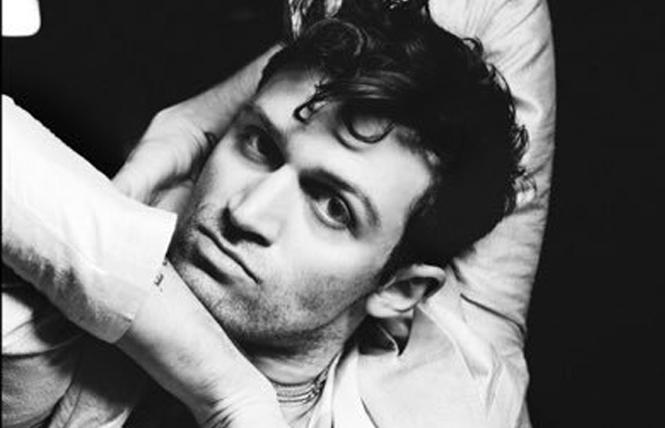 Sam Pinkleton is directing ACT's production of "The Rocky Horror Show." Photo: Courtesy ACT  



Get your Halloween off to a spooky start by auditioning for the American Conservatory Theater's local production of "The Rocky Horror Show."
ACT recently announced that it will hold open auditions for the cult classic Thursday, October 31, from 10 a.m. to 7 p.m. at Yerba Buena Center for the Arts, 701 Mission Street in San Francisco.
The production will be performed at ACT's Geary Theater April 23-May 17.
Artistic director Pam McKinnon and director-choreographer Sam Pinkleton encouraged interested people to try out.
"'The Rocky Horror Show' is a haven for people of all stripes to be their most brilliant, strange, honest, fabulous, and terrifying selves," Pinkleton said in a news release. "It's been blowing minds and opening hearts in San Francisco and around the world for 40 years and I am — yes — shivering with antici … pation to assemble a community of Bay Area performers who will take over the Geary in 2020 to collaborate on a musical blowout that could only happen in, and for, San Francisco."
He added that people can come as they are.
"If you're nervous about singing, lip synch. If you want to wear a wig, wear three," he said.
Each auditionee will be asked to sign up for an hourlong slot, which will start with a group warm-up and brief Q&A, followed by private individual auditions with the "Rocky Horror Show" team. People should plan on arriving 15 minutes prior to their audition slot. Some auditionees may be asked to attend callbacks November 1 at ACT's studios.
All ethnicities, body types, gender identifications, and ability levels are encouraged to audition. Performers must be local and living in the Bay Area to be considered for casting. No professional experience or union affiliation is required to audition.
Auditionees should prepare a song — any style of music — of their choice that they love to sing (under two minutes in length) and bring sheet music. Halloween costumes are encouraged but not mandatory. Other music options are also available.
For more details and to sign up, visit https://bit.ly/2oJj7Vn
Panel looks at Supreme Court
A group called Take Back the Courts believes that conservative appointments to the U.S. Supreme Court have damaged it beyond repair and the only answer is to expand the number of seats on the nation's highest court.
Interested people are invited to a panel discussion to learn how the group's founders believe it can be done.
The United Democratic Club's Team Q will hold an event Monday, October 21, from 6:30 to 8 p.m. at Ecosystem, 540 Howard Street in San Francisco.
Take Back the Court founders Kate Kendell and Aaron Belkin will be joined in conversation by moderator Joel Engardio, Team Q chair.
Kendell is the former longtime executive director of the National Center for Lesbian Rights. Belkin ran a research institute that helped overturn the ban on gay and lesbian service members in the military. Now, the two have joined forces in their latest project.
"The Supreme Court has broken democracy by dismantling the Voting Rights Act, allowing dark money to flood our politics, and approving partisan gerrymandering," Belkin said in a news release. "To restore the right to vote, ensure reproductive freedom, protect workers, halt our climate emergency, and save democracy, Congress must add seats to the U.S. Supreme Court."
The event is free and open to the public. For more information, visit the United Democratic Club's Facebook page.
Meeting on Armstrong Redwoods state reserve
California State Parks and the Stewards of the Coast and Redwoods invite interested people to learn about the future of Armstrong Redwoods State Natural Reserve and Austin Creek State Recreation Area at a public meeting Thursday, October 24, from 4 to 6 p.m. at the volunteer center, 17000 Armstrong Woods Road in Guerneville.
Representatives from California State Parks and the Stewards group will be on hand. The Stewards group operates both Armstrong Redwoods SNR and Austin Creek SRA. In addition to an annual report the Stewards will be providing a general organization report.
According to a news release from California State Parks, the closure of Austin Creek SRA in 2011 was avoided via an operating agreement authorized by Assembly Bill 42, in which nonprofit organizations stepped in to keep the state park lands and facilities in Sonoma, Mendocino, and Marin counties open to visitors. The annual meeting is a required component of the operating agreement, as specified in the legislation.
Annual reports since 2013 are on Stewards' website at www.stewardscr.org/austin-creek-annual-reports.html
Library holds financial planning day
The San Francisco Public Library, in partnership with the Financial Planning Association of San Francisco and the San Francisco Treasurer's office, will hold the 10th annual San Francisco Financial Planning Day Saturday, October 26, from 9 a.m. to 3 p.m. at the main library, 100 Larkin Street.
At the event, Bay Area residents will be able to meet one-on-one with certified financial planner professionals to discuss their personal finance questions, concerns, and interests.
The day is a great opportunity for a free, objective, private consultation with an expert on a wide variety of financial planning issues including budgeting, debt management, retirement planning, investment strategies, income taxes, and insurance. Workshops will be offered on saving and paying for college, student loans, tax planning, investing basics, marriage and financial planning, and more.
Spanish and Chinese translation will be available for the one-on-one consultations.
There are no strings attached. Financial planners volunteer their time and will not pass out business cards, marketing materials, or sell products or services. They will be stationed at tables to meet with one individual or a couple at a time.
Previous events have drawn 300-400 Bay Area residents.
The event is free and open to the public. Registration is encouraged and can be done at https://bit.ly/31h366g
Leather bar show tunes
Interested people can join DJ Dank for another Leather Bar Showtunes Sing-Along Sunday, October 27, from 7 to 11 p.m. at the Eagle, 398 12th Street in San Francisco. The suggested donation is $10.
Paul Hogarth, a gay man and talented pianist, who will join Maria Konner, a trans woman and host of the "Under the Golden Gate" variety show. Together they will perform some of their favorite show tunes, movie songs, and rock/pop favorites with plenty of time for attendees to get up on the Eagle's stage and sing their favorites.
"I am excited to come play at the Eagle for the first time," Hogarth wrote in a Facebook message. "Leather Bar Showtunes Sing-Along is an exciting new part of the community, and it's gonna be a blast."
Nominations open for Jewish teen awards
The Helen Diller Family Foundation's Diller Teen Tikkun Olam Awards program is now accepting nominations for 2020. The awards recognize up to 15 extraordinary Jewish teens annually with $36,000 each to support their ongoing social impact projects or to further their education.
Up to five teens from California and 10 from other communities nationwide will be acknowledged for demonstrating exceptional leadership and impact in repairing the world.
The awards were the vision of the late Bay Area philanthropist Helen Diller, who sought to recognize the next generation of socially-committed teens whose dedication to volunteerism exemplifies the spirit of tikkun olam, a Jewish value meaning "to repair the world."
"Nominating a teen for the Tikkun Olam Awards is a wonderful opportunity for educators, civil leaders, and teen mentors across the country to recognize young Jewish leaders who are creating meaningful change at home and across the globe," Jackie Safier, Diller's daughter and president of the foundation, said in a news release.
Since 2007, more than $4.5 million has been awarded to 129 teens through the program.
Anyone interested in nominating a teen, or any teen interested in applying directly, can visit www.dillerteenawards.org for more information. The deadline to apply is January 8.


[ad_2]

Source link