[ad_1]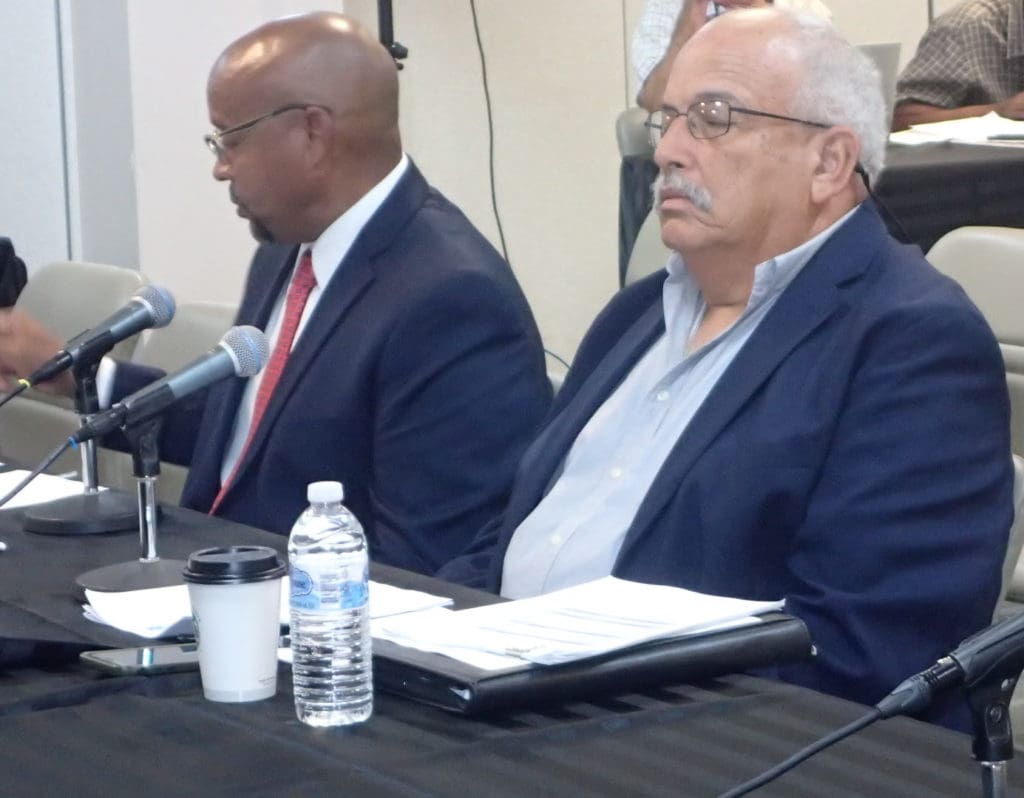 Senators grilled the West Indian Company about its revenue streams and back taxes during a Economic Development, Regulations and Agriculture Committee hearing Thursday.
Sen. Allison DeGazon, committee chair, said she called for the updates because WICO has not been transparent in the past, and Tourism needs to get more flights into the territory, especially during V.I. festivals. Both entities play major roles in the economic wellness of the territory, she added.
Interim President of the West Indian Company Anthony Ottley's opening statement outlined the company's assets and income sources. The company's warehouses, commercial properties and undeveloped land generate income, including submerged land leased to Yacht Haven Grande and the West Indian dock. Their rental properties, including V.I. Next Generation Network, two rental car agencies and commercial land, produce between $700,000 and $800,000 annually, Ottley said.
The company's second source of revenue is fees from managing retail operations, offices, and warehouses at Havensight Mall, owned by the Government Employees Retirement System.
Its largest revenue source is the WICO dock. Two-thirds of all cruise ships coming to the territory arrive at that dock. The company projected 350 ships would berth there in 2019 and it received 347, generating $7.3 million in revenue. Only 312 cruise ships are projected for 2020, partly because of the size of new mega ships.
The dock is also the biggest challenge because larger vessels are requesting berths and the dock has been lengthened to the maximum without encroaching on the main channel. According to Mark Sabino, director of marine and cruise services, seven cruise ships were turned away this year. Three were saved by adjusting dates. Losing seven ships means 35,000 fewer passengers.
"We are a three ship port. We have arrived at a time where the number of ships we receive is decreasing," he said.
Ottley said only 400 feet of the Frederiksted pier can be used as a berth and new mega ships are approximately 1,000 feet long.
There was a discussion about adding berths, but funding is not available. Due to its length and draught, the QEII will be required to anchor in the Charlotte Amalie harbor when it calls on Dec. 26. And the Norwegian Epic will not be accommodated in January.
Ottley said a plan will be resurrected from 2015 for the Long Bay Landing Pier that will allow 10,000 to 12,000 passengers to berth at the same time. Sen. Kurt Vialet agreed that is "needed urgently" and Sen. Alicia Barnes called it the "number one priority."
"I want to see us step it up because our neighbors are going after these cruise ship," Sen. Oakland Benta said.
Ottley didn't mention it in his statement, but DeGazon wanted to know when WICO planned to pay its $7 million delinquent tax bill. Ottley said the 2018 tax bill of $700,000 had been paid but didn't offer a reason for non-payment nor when the rest would be paid.
Cheryl Brown Petersen, WICO chief financial officer, said the company would pay something this year, but didn't say how much. She said WICO's marine division earned $7.3 million this year. The operating budget is $10 million and the capital budget is $1.8 million.
"You're making $10 million, you need to change the mindset," DeGazon said. "I would like to see more effort. I just don't see why it has not been made."
WICO's bills include $3,500 a month for the governor's housing in St. Thomas and $90,000 for a Long Bay consulting fee.
The chief financial officer said there are no delinquent debts on the WICO books and their bills are up to date as well.
There were several unanswered questions in addition to a list of expenses. Ottley said he couldn't answer the question of what kind of organization WICO is because there is a lawsuit about that topic. Board meeting expenses were said to be $14,000 each meeting, but the number was not verified. Ottley didn't know the appraised value of WICO nor could he say why there is no permanent CEO/president.
Present at the committee meeting at the V.I. Cardiac Center were Sens. DeGazon, Barnes, Benta, Vialet, Novelle Francis and Dwayne DeGraff. Sens. Athneil "Bobby" Thomas, Marvin Blyden and Myron Jackson attended via Skype.

[ad_2]

Source link