[ad_1]

This article first appeared in The Edge Financial Daily, on October 23, 2019.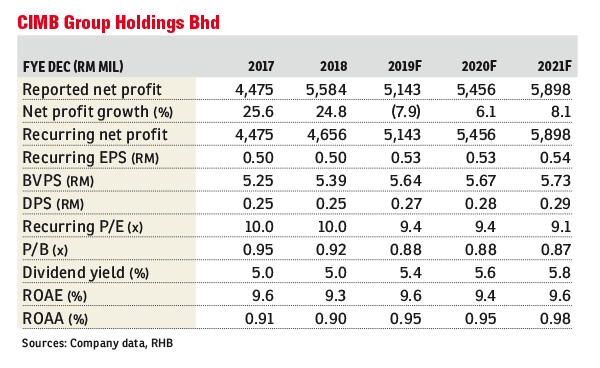 CIMB Group Holdings Bhd
(Oct 22, RM4.96)
Maintain buy with a target price of RM5.60: CIMB Group Holdings Bhd's (CIMB) 94.8%-owned CIMB Thai posted a 184% quarter-on-quarter (q-o-q) rebound in the third quarter of financial year 2019 (3QFY19) net profit, lifting its earnings for the nine months of the year (9MFY19) by 35.5% year-on-year (y-o-y). With higher 3Q earnings, we believe the Thailand operations should maintain contributions to the group's pre-tax profit at 5% to 6% for 9MFY19.
CIMB Thai's 184% q-o-q rise in net profit of 298 million baht for 3Q was a recovery from 2Q's 68% q-o-q drop. The earnings rebound was mainly from a 15% q-o-q decline in impairment allowances, with an annualised credit cost estimated at 95 basis points (bps) versus 113bps in 2Q.
Underlying operations, however, were softer as a 5% q-o-q increase in operating expenses led to a similar 5% q-o-q decline in pre-impairment operating profits to 894 million baht. Its operating income grew 2% q-o-q, mainly on a 7% q-o-q rise in non-interest income (NII) as net fee income increased 21% q-o-q. Its NII was up a modest 0.9% q-o-q, moderated by a 3bps q-o-q narrowing of net interest margin (NIM). The higher operating expense came mainly from expenses incurred for the bank's Fast Forward expansion strategy. Its cost-to-income ratio (CIR) was a higher 74.1% versus 2Q's 72.1%.
For 9MFY19, CIMB Thai's pre-impairment operation profit (Piop) fell 20% y-o-y to 3.242 billion baht, mainly due to a sharp 17% y-o-y increase in operating expenses. Its CIR was 68.6% versus 59.8% a year ago. Aside from expenses for the Fast Forward strategy, personnel costs rose 17% y-o-y due to an amendment bill for the labour protection law, requiring a higher compensation for retired employees or those with over 20 years of service. Its NII improved 3% y-o-y as a 5.5% year-to-date (YTD) (annualised 7.3%) loan growth mitigated a 45bps y-o-y compression in NIM to 3.32% due to higher funding costs.
Gross non-performing loans (NPLs) rose 3.7% q-o-q to 11.1 billion baht, resulting in a 12.2% YTD increase. The management attributed the higher NPLs to certain corporate accounts and retail segments. The gross NPL ratio was a higher 4.6% versus 4.3% in December 2018. The loan loss coverage slipped to 98% from 106.5% in June 2019 and 107% in December 2018. CIMB Thai's capital position was stable in 3Q with the Tier-1 capital ratio at 13.6% and the total capital ratio at 18.6%. — RHB Research Institute, Oct 22
[ad_2]

Source link